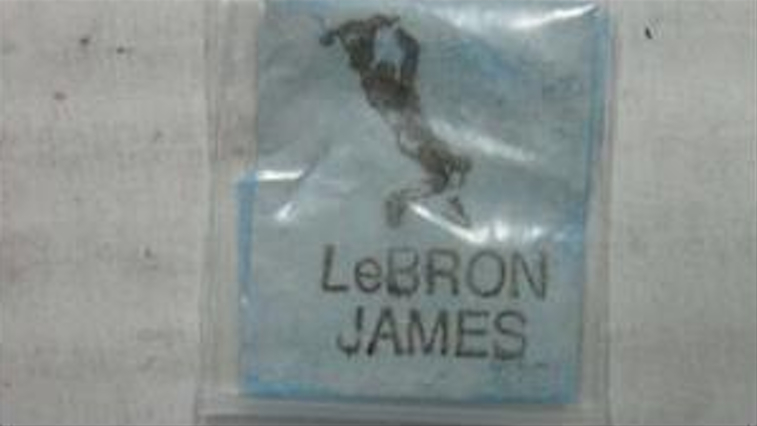 Last year we discovered that a new strain of weed was named after Justin Bieber up in Toronto – it was called J Kush – and now it's the turn of NBA star Lebron James. I don't really know much about NBA basketball – except that if you get a few dunks in a row then you're ON FIRE and the ball starts shooting flames – or Lebron James except that Lebron James was a really big deal in Cleveland a few years back.
Before he even finished high school he was playing in front of 60,000 people for his high school team and all my buddy Keith (who was from Cleveland) could ever talk about was how good he was blah blah blah. Anyway, I just did some quick research and he actually stayed in Cleveland for a few seasons after he graduated and despite becoming the Cleveland Cavaliers all time top scorer, he soon realised after losing in the playoffs every season that  it was a dead end city and went to Miami and finally won the NBA championship for the first time this year. Keith and the rest of Cleveland wept. Lebron then won a gold medal with the USA at this summer's Olympics.
So it seems like Lebron James is probably a big enough deal to get a strain/cook/variety of heroin named after him. I mean, it seems like he's at least as big a deal, if not bigger, than Justin Bieber (sorry Beliebers) and if he can get a strain of weed named after him I don't see why Lebron can't get a strain of heroin named after him.
Although I must admit that I'm perplexed that heroin has different varieties. I mean obviously every batch is different but it's not like people that buy heroin/heroin addicts are the same as those creepy stoner guys who look like Jay or Silent Bob and know everything about all the different types of weed and think you're an idiot when you don't and you say something like 'yeah man it's all the same to me, I just like getting high,' I mean these guys are fucking heroin addicts. Heroin addicts aren't fucking stoners – it's a whole different ball game.
To me that means they don't give a fuck if they're getting the Lebron James brand of heroin or the Michael Jordan version of even the Justin Bieber version, they just want to get that needle and stick it in their vein ASAP and will sell their own mother to do so. I don't think some junky is going to wait a couple of days before their dealer gets the Lebron James shit in, they'll either smash his head in or take the lower end stuff right? Can anyone shed any light on this and whether or not its accurate as most of my experiences of heroin come from TV shows and movies and this story that Frank Turner told me once.
☛ More: Think doing heroin's cool? Check out the 'That Guy's On Heroin' Tumblr
Anyway, despite my reservations about bothering to waste some of your budget as a drug dealer on a marketing campaign for your product, Lebron James did get a type of heroin named after him and  it went down on the streets of Philadelphia, much like Tom Hanks (or his character at least) probably went down on a bunch of guys in that city prior to the release of that movie about 20 years ago.
The police managed to bust a major dealer and recover 140 packets of the Lebron James heroin. Big win. The dealer was called Marlon Guess and he tried to sell $750 of Lebron James heroin to an undercover cop, then realised he was getting set up and fled in a rental car, slamming into a cop car and then into another car before trying to get away on foot and being arrested, with his bail set at $250,000. Ouch.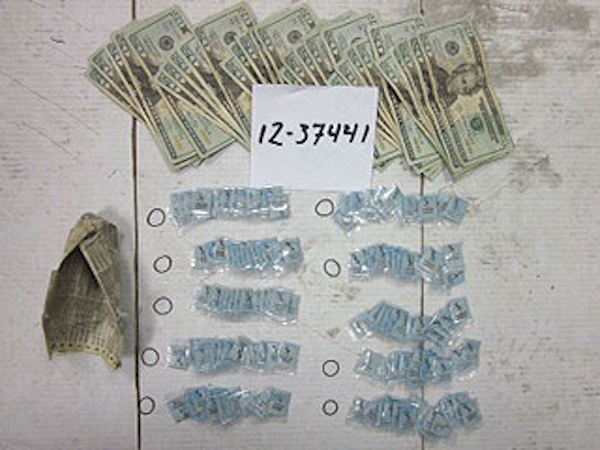 Let's look at this for a second though. The dude is selling 140 packets of heroin for $750, even at a bulk discount that's a pretty shitty deal, the dealer is making something like $5.50 a bag. And he's paying to get the bags branded too? That's gotta cut some into his profit margin, surely?
I guess he has the blue shit by the looks of things which any meth/heroin addict is gonna know is the good shit if they watch Breaking Bad. Question is how many heroin addicts have TV's/computers to watch Breaking Bad on? Answer: probably zero because they've sold them all to buy heroin. Notice I didn't say the Lebron James heroin, because THEY DON'T CARE WHAT HEROIN THEY'RE GETTING! I'm thinking Marlon Guess should maybe take some business classes like Stringer Bell whilst he's in jail then maybe he'll emerge with a better business plan.
Michael Chitwood, who is the superintendent in Upper Darby which is the area of Philly where all this went down, had this to say about the incident: "I don't think LeBron James would be too happy with this drug-dealer dude using his name on these street bags." Yeah, no shit Chitwood, Lebron would be wanting a cut of that shit to go with the $90 million a year he gets from Nike.
Here are a couple more of links you might like:
45 Days, 45 Drugs, 45 Self Portraits
What Does It Feel Like To Do Heroin?