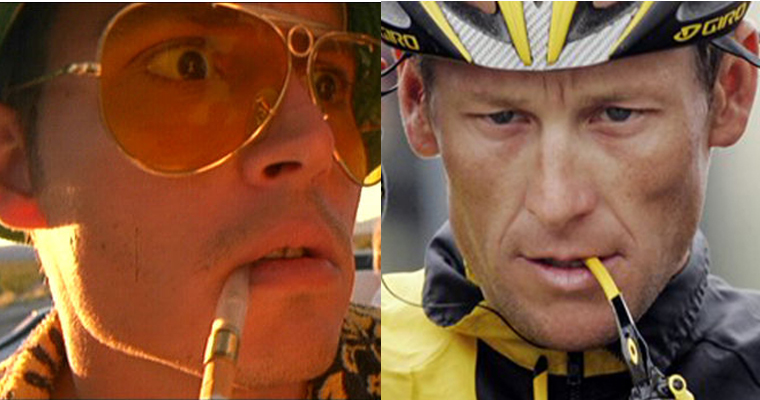 Lance Armstrong, the once golden boy of all that was cycling has had one of the biggest falls from grace that sport has ever seen after it was alleged that he spent the majority of his career doing an impression of Hunter S. Thompson in Fear And Loathing In Las Vegas.  When old Lance wasn't injecting blood, steroids and god knows what else into his All-American veins you can guarantee that he was taking time out of his busy schedule to cure cancer and make shit loads of money from Nike ads.  Although the cancer fundraising cannot really come back to haunt him as he's pretty much raised half a billion dollars to fight it – it seems as though with a swoosh of their famous logo – the boys at Nike are strong-arming Lance and have cut all ties with the yellow jersey smackhead.
There are some absolute gems for soundbites in this little YouTube clip so the only logical explanation is that Armstrong has been having a good old laugh at everyone's expense for a couple of years whilst swimming around in a pool full of money with his one testicle.
The advert begins with Armstrong quoting a classy line once made famous by Robert Downie Jnr when he was in his me against the world phase:  "This is my body and I can do whatever I want to it."  It shows him shooting up and then riding his bike around like one of those nutters you see in the middle of Amsterdam and then pans back to the great man only for him to answer the question that everyone has been asking for years – What are you on Lance, old boy? Cos fuck me – you're either riding the shit out of your bike or tripping your balls off…What's the secret?"
"Everbody wants to know what I'm on?  What am I on? I'm on my bike. Busting my ass 6 hours a day. What are you on?"
MORE: Drugs – The Truth
MORE: Sick Chirpse Guide To Buying The Best Marijuana
MORE: Is This The World's Most Evil Drug?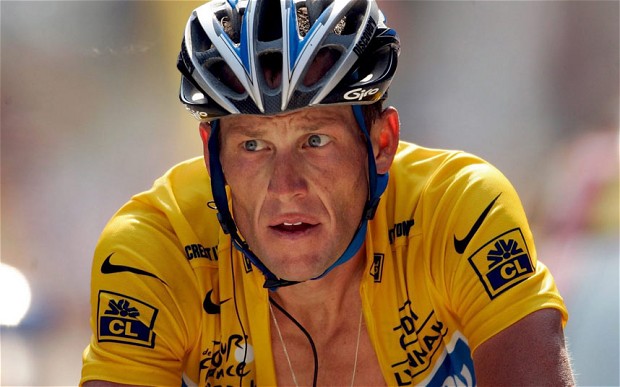 You think you're gonna hit it hard tonight with your recreational drugs?
Here is a list of the shit that he ploughed into his  body his career as a proper doper:
Erythropoietin (EPO), also known as "E," "Po," "Edgar" or "Edgar Allen Poe," among other names. EPO is used by athletes to increase the number of red blood cells in their circulatory system which are available to carry oxygen.

Blood transfusions (the old blood doping). Blood transfusions generally involve the extraction of an athlete's own blood pre-competition and re-infusion of that blood shortly before or during competition. Basically you nosh a load of your own blood half way through the race like a psycho vampire and come out the blocks like a rat up a drainpipe.

Testosterone.  It's the one that all those East German women took before their swimming lessons in the 80s to grow big and strong. Basically increases muscle mass and makes you go all proper ripped.

Human Growth Hormone (hGH). Human growth hormone is improperly used in sport to increase strength and lean muscle mass, to assist in weight loss and promote recovery.  Will Smith used to be the same size as Carlton Banks until they gave him this stuff apparently.

Corticosteroids (e.g., cortisone).  The drug equivalent to shoving six cans of red bull up your ass.

Saline and plasma infusions. Basically what Blade injects in order to fight vampires so it's pretty serious shit.

Follow AMJ @amjeezie

Follow Sick Chirpse @sickchirpse