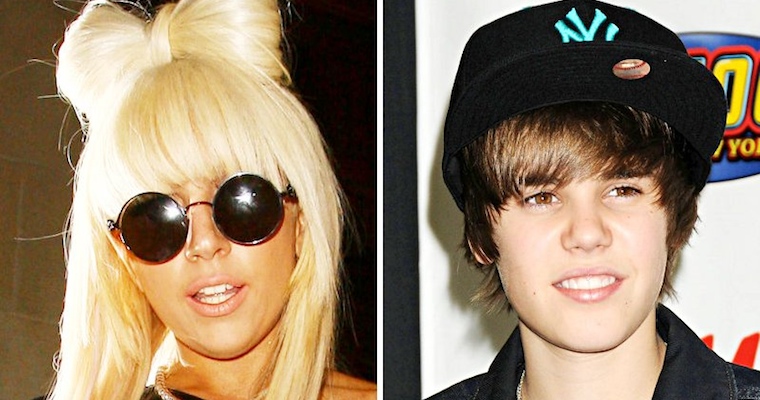 So a couple of weeks ago Lady Gaga tweeted a 'nude' photo of herself which was really lame because it was really far away and blurry and she was really white and pasty and gross and she had her knees up  covering any of those sexy zones and it was just bullshit really, not a real 'nude' photo by any stretch of the imagination – not like our main girl Daisy Lowe who posed nude for Playboy this time last year. So you could pretty much assume that if she was going to get a tattoo then it was probably going to be lame following that even though generally she is kinda edgy/cool/outrageous.
Justin Bieber is pretty lame ,period, though (unless he's getting remixed by Slipknot or playing football with Barcelona or getting a new strain of weed names after him that is) so you could automatically assume that if he was going to get a tattoo it was going to suck. He is an a 18 year old Canadian guy though so this is perhaps a bit more understandable than Lady Gaga who is actually kind  of edgy/risque/cool and so you might expect her tattoo to actually be kinda cool or at least mildly offensive/interesting/shocking and not completely lame.
But yeah ultimately both of their new tattoos are completely wack. Gaga's is an anchor on the left of her ribcage which is kinda cool because you can almost see her boobs in the picture she tweeted of it, as she's obviously performing a typical Lady Gaga risque pose. But to be honest, the tattoo of a flower she has underneath it (which I didn't know she had either) is probably sexier and cooler, but I guess if she was just showing you that one you wouldn't get anywhere near her boobs. Here it is, in all it's glory: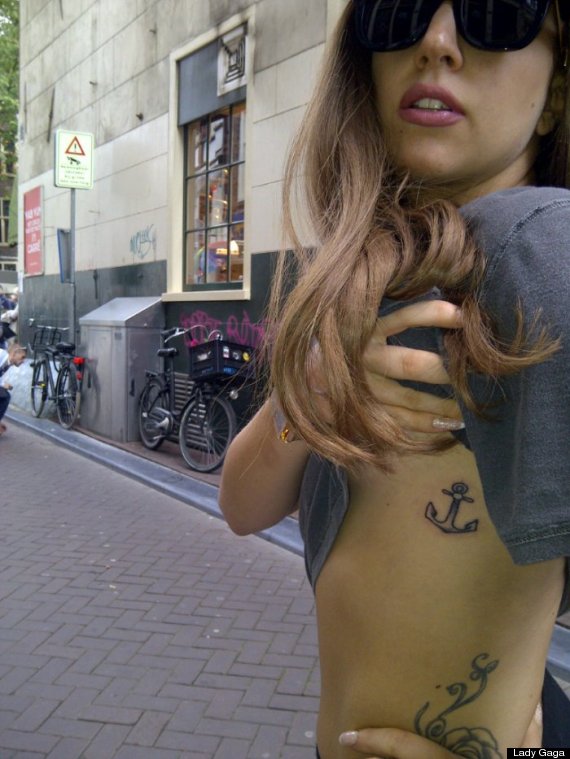 Still, there's no denying it's a pretty lame tattoo. She tried to make it a bit more exciting by tweeting the following about it: 'New Tat. Stamp of His Mermaid' Oooh, that's real mysterious Gaga. What are you talking about? Your new boyfriend Taylor Kinney? Or Tom Hanks in that old movie? Or is it just that you really love mermaids? Who cares? An anchor doesn't even have anything to do with mermaids, they're used on boats you idiot.
Justin Bieber's tattoos is even lamer though. He's got a crown on the upper right side of his chest. Obviously he tweeted this to the world lying topless on his bed so all the middle aged women who have finished reading 50 Shades of Grey and whacking off to it have something to turn their attentions too on those lonely Sunday nights. Unfortunately J Biebz didn't tweet anything useful about the tattoo, just the following: 'ew tattoo is a crown in case you couldn't tell'  so we can only speculate as to why he wanted to get this tattoo. Probably something to do with him being The King or something right? Also have to congratulate the guy on his spelling – that wasn't a typo he missed the N off new. Canadians eh? So whacky. His tattoo is pretty crap too. Here's a picture of it: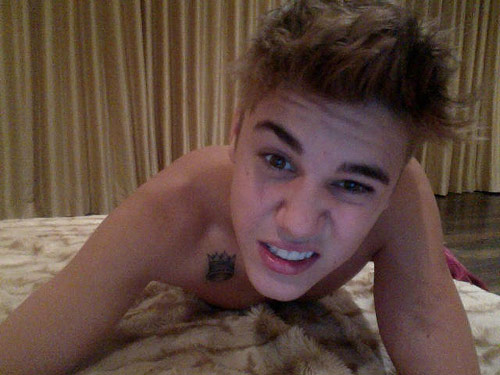 Incredibly Bieber already has 8 tattoos. Not so incredibly Gaga has 17. Can't wait until the get some even lamer ones. Still it could be worse, they could have gone to Synyster Ink or James Rummage. Now those tattoos aren't just lame, they're pretty much the reason why retards shouldn't tattoo. Given their standards though we may see Gaga and Bieber rocking up to their respective tattoo studios (bedroom) sometime soon. Stay tuned.