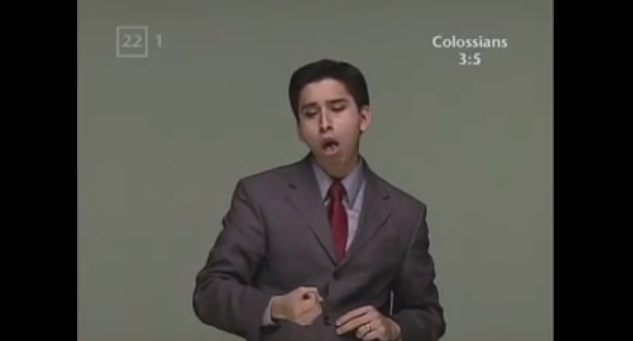 I'm really confused. This video involves deaf people, Jehovah's Witnesses, masturbation, and R. Kelly. I don't really know how to explain it, so just check out this quick blurb and get straight to the video action.
There's one thing I know about Jehovah's Witnesses, and that's nobody likes them. Apparently they knock on your door and chat shit to you about Jesus or whatever, and people just always end up telling them to fuck off. Now I'm not surprised they get told to fuck off, or that nobody likes them when they do ridiculous things like release videos telling deaf people it's bad to masturbate. Yeah, serious.
Check out video number 22 over at the official Jehovah Witness website here. It's a video about 'gaining victory over masturbation' – whatever that means. The same video has been made for deaf people, featuring someone giving the message in sign language, which turns out plays pretty well with R. Kelly over the top. Check it:
First guy

Now explain to you why masturbating (man) and masturbating (woman) bad, can fight to stop

Second

Hi some of you are used to male masturbating or female masturbating, may feel nothing wrong

Oh, jesus is looking and is disgusted, why? Masturbating is inherently selfish and is all focused on your inner wants.

What is sex for? Sex is for men and women who love each other.

Some people are overcome by lust and say they need to masturbate for relief. They can hold that back. People that masturbate will be overcome by more feelings of lust and will be compelled to masturbate more. They will have sex on the brain constantly.

They will look at men and woman with lust. Here's what Paul said

Third guy – Corinthians

It's important to keep your mind and body pure. Any thoughts that sully the body, Jesus is against it. Purify the body for the sake of being the same as Jesus.

Back to second guy

It's important to keep the mind and body pure. If you've been masturbating for awhile, it may be tought to stop even if you want to. If you have failures, you may feel like you're failing in the eyes of Jesus. But, Jesus won't view you like that. Jesus knows you through and through, and understands your travails and struggles. If you beg for forgiveness, Jesus will understand and forgive. Don't be afraid to ask Jesus for help and understanding. The relationship between you and Jesus is like a father and children. When children do something wrong and ask their father for forgiveness, the father is understanding and comforting. Just like the father, Jehovah is forgiving.

But, is it enough to just do wrong and ask for forgiveness? No. You must also act the part. If your friends confess to masturbation, cut them out of your life. Don't watch porn. Put your computer in a public place so that you're not tempted to look at porn. If suggestive ads bother and tempt you, buy a blocking program. They aren't perfect, but the blockers can help.

If you still struggle with masturbation still, tell your mother and father (unclear here. Strict translation is Jehovah Mother Father, or Jehovah Witness Mother Father).

Or tell a brother and sister (same issue here).

Bible Quotes – If you're having trouble, confess to your brother and sister and they will help. Or you can look at Awaken Magazine, Nov 2006, Page 18-20, or IPA Young People can ask book first page 205-211. There are a lot of good points there to help you.