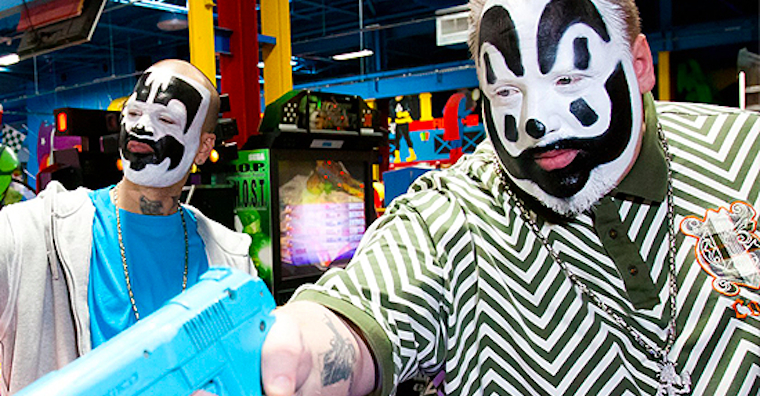 It was the Gathering of the Juggalos over the weekend up in Detroit or the surrounding area or wherever it is (if you don't know what the Gathering of the Juggalos is you clearly don't pay enough attention to Sick Chirpse, so go and check out American Juggalo or this Gathering of the Juggalos infomercial. Or if you don't want do that it's basically when all the fans of Insane Clown Posse get together to do drugs and party and listen to stupid music and shoot whoop whoop a lot) and aside spraying Faygo all over each other or whatever the hell it is that actually goes on at these events, the Insance Clown Posse also announced that they would be suing the FBI.
That's right, the Insane Clown Posse are going to sue the FBI. I'm not really sure how anyone goes about suing a government agency but I'm sure if anyone has the money and desire to do so then it's the Insane Clown Posse, they are just  straight up ballers. They've decided to sue the FBI for violating the collective rights of juggalos all over the world. Or I guess just maybe the USA because I think they probably only have jurisdiction there. Anyway, the FBI recently classified Juggalos as a 'loosely organized hybrid gang' after one juggalo from New Mexico – who is wanted on two counts of armed robbery – made the country's most wanted list. On his wanted poster, it lists his gang affiliation as 'Insane Clown Posse Juggalo:'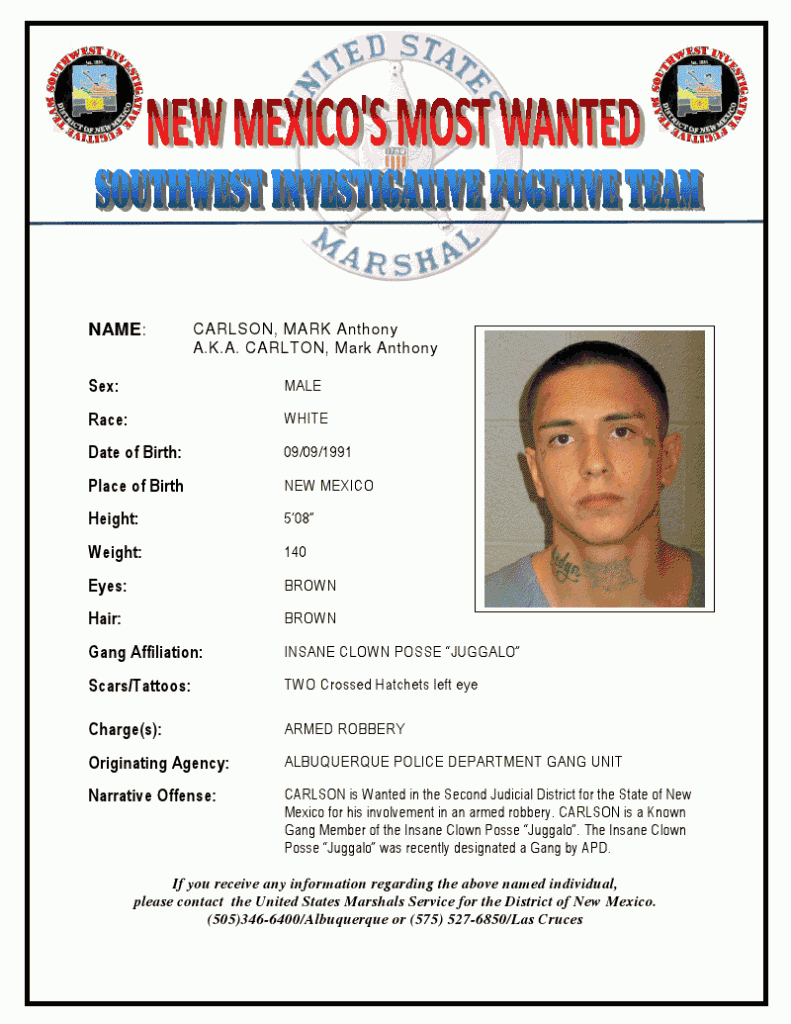 Now, understandably the Insane Clown Posse were pretty ticked off about this as it places them on the same level as gangs like Aryans, Skins, Bloods and Crips. As stupid as Juggalos are I don't really see them as a threat to my safety or the safety of anyone else for that matter. Sure, it might be a bit intimidating seeing a gang (shit, sorry not gang er bunch?) of people dressed up as clowns and wearing escaped convict costumes etc, but I think all they want to do is listen to really bad music and throw Faygo all over each other, not blow up the twin towers or anything, so I'm kinda down with the clown on this one.
I'm  not sure how they're going to do it and neither is ICP's founder VIolent J, who merely chose to state at the announcement that  '"no matter what it costs or what it takes… The main fact is, we're not just layin' down and taking it up the ass' which is pretty badass.'  I would bet my money on ICP coming out of this on top though mainly due to the fact that they're complete business badasses and also because I heard on Poker Blog that Shaggy 2 Dope is a pretty sick poker player too, so I'm sure he would be able to hold his nerve in court against the FBI.
The announcement came on Thrusday at the Gathering of the Juggalos in a 1500 capacity tent that was jam packed following a crytpic tweet from ICP earlier in the day saying that they would be making the biggest announcement of their career in the tent at that point.
I would probably be pretty disappointed if I turned up for the announcement and it wasn't that they would be recording an acoustic version of Magnets with someone from Kottonmouth  Kings playing guitar or something equivalent, but most juggalos seemed to really love it shouting 'Family' over and over again. A bunch of them even started crying which was probably pretty annoying for them as it would have meant they would have had to go and redo their facepaint before they started partying again.
One juggalo called Shawn Wolf from Arizona explained (whilst he was crying) just what the decision meant to him: 'You don't know how much this means to me. I recently lost custody of my son because of my love of ICP. I've been a Juggalo since I was 16. The state of California flew to my house [to see if I was fit], and it's all ICP-decked out. Just because of that, I was kinda screwed. I can't afford a lawyer so I'm hoping that ICP doing this will help me out with my problem.' I guess it might help him out but it will probably be a while and if we're going to be honest it probably wasn't just the fact that he was an ICP fan that made him an unfit parent, was it? It's probably more likely the fact he smokes bongs all the time and travels halfway across the country to attend wild parties like Gathering of the Juggalos. Admittedly both of those things are kinda related to being a Juggalo but let's not be too picky.
Anyway, ICP's lawyers are looking for any juggalos who have been unlawfully wronged because of their juggalo status over the past few years: 'We are seeking individual Juggalos whose rights have been violated as a result of the mistaken belief that they are a 'gang member.' If you or someone you know has suffered any negative consequence with an employer, governmental representative, including law enforcement, border patrol, airline security, or other local, state or federal governmental agency or employee as a result of your status as a Juggalo, we want to know about it.' If you fit into this category (I hope not) then hit up Howard Hertz ove at Hertz Schram PC. Otherwise, stay tuned to Sick Chirpse and we'll keep you abreast of any developments in the case.