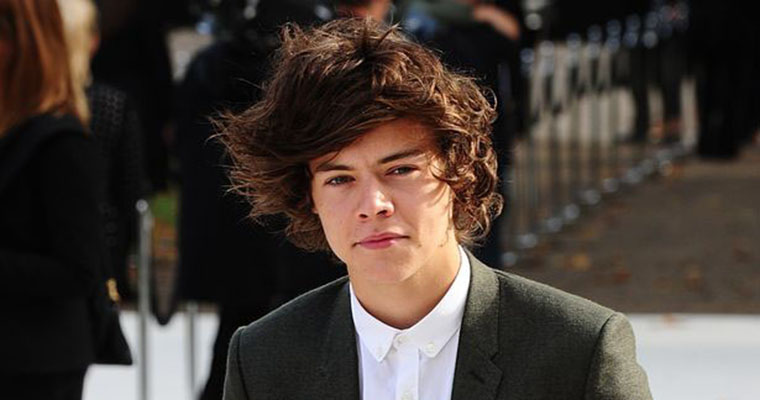 Earlier this year, it was red alert for every 13 year old girl in the world when One Direction's Harry Styles unloaded himself of another floozy, an equally insignificant XFactor presenter. Now, he's reading 50 Shades of Grey and the media have the audacity to call it news.
With the newspapers repeatedly churning out this garbage it begs the long overdue question, 'Who really gives a shit?'. When the headlines are hogged with this superficial phlegm the genuine news is shamefully swept under the carpet. This is the mystical rug that our blatantly corrupt media have created to cover up information that may actually trigger some sort of emotional response from us. Instead of hearing an accurate summary of the news the world over we are drip fed nonsense about how Mrs X only eats fish fingers and why Mr Y fantasises about his pet hamster. We wouldn't be surprised if Harry Styles did both of these.
So the epically long three month relationship between him and Caroline Flack has now sadly ended. Well it ended 9 months ago. Why are we still talking about it? Anyway, do you remember Caroline Flack? We thought not. It's remarkable that people even know of Harry and One Direction. The unmemorable TV girl loosely presents the show responsible for One Directions meteoric rise to infamy. Hopefully this fame will be as short lived as a Daddy Long Legs.
So, Harry was 17 and she was 32. Wasn't that dangerously close to becoming the Megan Stammers quandary? On their last rendezvous to France they probably detested snails and decided not go back. Their hilarious romance was apparently getting too serious for the pop star to handle; hence the subsequent ditching.
Even the most mentally inept person can accurately decipher his rationale. Sorry Caroline but like Austin Powers he can probably 'have' anyone he wants. And like Austin Powers, he's an ugly fucker as well. Apparently she "was serious about the relationship". Are you serious? Trying to lure Harry away from watching Ben 10 to mow the back garden must have been an arduous undertaking. Another source stated "After their romance became public it put a lot of pressure on young Harry". It must be very demanding having your spaghetti cut up for you and having 13 year old girls gag over thoughts of you that would make their parents implode with embarrassment.
☛ More: If you think this is a good rant, check out our thoughts on 50 Shades Of Grey here.
Almost a year later and the XFactor presenter is still the deserved recipient of internet maltreatment by One Direction fans over her fling with the spotty adolescent. Her responding recent tweet said "I'm close friends with Harry. He's one of the nicest people I know. I don't deserve death threats." Well I don't want to condemn murder in any way but couldn't she just be given a brisk beating with a large stick? Nobody deserves to have this journalistic excrement smeared over their face on a constant basis, apart from maybe Simon Cowell. Sorry, but we don't have his address details.
Having actually Google Imaged Caroline Flack we can now confirm that she's distinctly forgettable. In fact, there are better looking men down at the local British Legion. Be prepared to stock up on Kleenex so you can cry yourself into a coma over this true tragedy. We don't actually care. It was in January! Our ears are so bored that they're threatening to run away! Why are the papers so adamant on recycling this journalistic silage? Those tissues would be put to better use masturbating over something. The sole advantage of this break-up media coverage would be in explaining the soggy pillow. There's only One Direction and that is straight to the toilet. Now that's news!