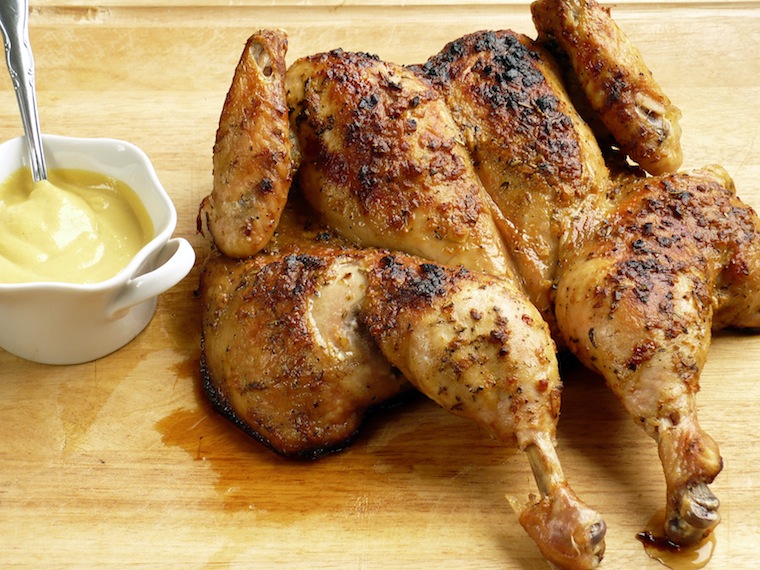 Mmmm… Juicy, succulent, tasty roast chicken. Get in me right now.
You can't beat a perfectly roasted bird on a pleasant Sunday afternoon. And I mean the poultry type. Topped off with a fine selection of vegetables, some thick gravy and a glass of Pinot Noir, it really is the perfect way to prepare for the anxiety ridden Monday morning that awaits you.
Now chickens sure do have their uses. For a start, they're pretty damn good at providing you with breakfast every morning if you treat them well and bring them up to lay a few eggs for you each day. They also taste really good when you've had enough of them clucking at 6AM every morning and you finally decide to pluck and fuck, I mean cook the little bastards into a full on roasted delight. But how about using a roast chicken to smuggle cocaine? Nah, didn't think so either. But it turns out that some dumb fucker thought it would be a great idea to try and smuggle 2.6kilos of cocaine from Brazil to Nigeria. Yeah, nice on buddy!
A Nigerian mechanic, who had had enough of living a shitty life in Brazil, decided to try and smuggle back $150,000 of cocaine to his home town in Nigeria so he could start his early retirement. While trying to figure out the best way of bringing his haul of cocaine back to Nigeria, the not-so-bright spark came up with the ingenious idea of wrapping his class A white powder in aluminum foil parcels and placing them inside a roasted chicken before boarding his flight.
Ok, so first of all I'm pretty sure it's against flying regulations to take a roasted chicken on board. Airports are funny about bringing 100ml of liquid and certain cheese, so I'd hedge my bet that half a fucking roast chicken is also out of the question. Secondly, isn't aluminum foil one of the most obvious things to be flagged up on an airport scanner? I mean, I'm no expert, and I've never tried it, but I could only imagine that maybe cling film or some other type of packaging would have been more appropriate rather than foil egg shaped parcels.
In cases like this, the dude most definitely deserves getting caught for being such a stupid dumb ass, but still, massive kudos for being responsible for the headline: Nigeria Uncovers Cocaine-Stuffed Roasted Chicken.