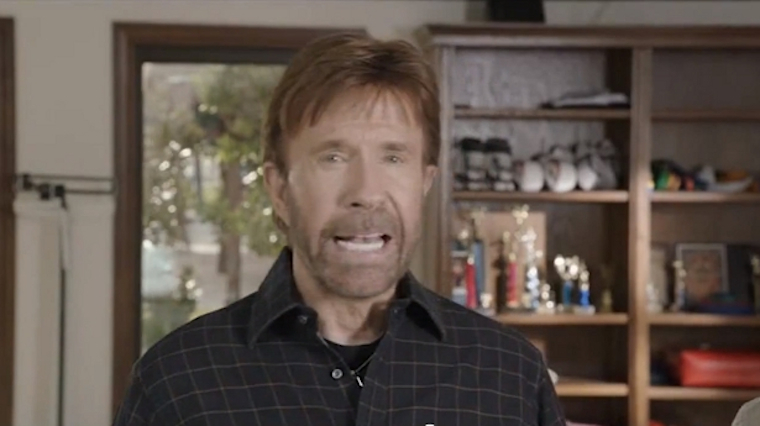 Everybody seems to love Chuck Norris but I'm just not so sure. There are so many of those stupid jokes floating around the internet you know the ones like 'Chuck Norris doesn't wear a watch, he DECIDES what time it is' and 'Chuck Norris doesn't need twitter….he's already following you' etc etc and loads of fat idiot frat boys/meatheads always walk around shouting about what a badass he is all the time and probably have t-shirts with his face on them and stuff too. But yeah there are just so many cooler action heroes then him and the fact that everyone who loves him tends to be an idiot/frat boy is definitely counting against him. Also Walker, Texas Ranger was fucking lame, even for a show that was on Friday nights on Sky 1 – the worst time slot – and Delta Force isn't exactly that great either and has he even been in any other movies that anyone has heard of?
I remember I saw him once in this really shitty movie called The President's Man where he had to train Pacey's brother in Dawson's Creek to be the next bodyguard to the President. It was really, really lame and that's the enduring image I have of this guy. That he's just some loser who probably hangs out with Nickelback in his spare time, although maybe not so much now that Chad Kroeger is getting married to Avril Lavigne.  But regardless of who he is or isn't friends with, he sucks and this is evidenced by the lameass people who have elevated him to demigod status. I mean surely the fact that he appeared on the World of Warcraft advert tells you how lame he is and illustrates who ACTUALLY thinks he's cool. Shit, I just thought though, Chuck Norris is probably tracking me down now just for typing that because 'Chuck Norris doesn't allow negative blogs to be written about him, instead he breaks all blogger's fingers' or some other lameass bro cuss. I'm just gonna go lock the door. Er better triple lock that shit bro because Chuck Norris…SHUT UP.
Anyway, as much as this obviously could be a rant (and is at the moment) about how dumb and oversaturated the whole Chuck Norris 'thing' has become it isn't, although I could maybe write something about that in the future. No, this is about how Chuck Norris himself is actually an idiot despite all his badass ninja bow staff or karate flip skills or whatever the hell else he is even famous for. This happened last week so apologies for being a little slow on the uptake but I thought this was special/ridiculous enough to bring it to you even despite the relative lateness.
As you may know, it's an election year over in the United States and so Barack Obama and Mit Romney (if you don't know who Mit Romney is check out this blog about Republican idiots) are hitting the campaign trail and trying to get the votes they need to get into the White House. Or the Black House, whatever. Inevitably this leads to cringeworthy celebrity endorsements, such as Clint Eastwood talking to an empty chair/going insane a week or so ago at the Republican National Convention or Nicki Minaj exclaming that Democrats are lazy bitches who need to fix the economy. 
But as stupid as both of those events were, I don't think it's anywhere near as stupid as the video that Chuck Norris and his wife just uploaded encouraging people to vote for Mit Romney in the election. Chuck Norris lifelessly talks from a teleprompter about how America is 'under attack' and 'how it could be lost forever' unless we act NOW, which kind of makes me think he has done too many drugs or may actually be brain damaged from one too many karate kicks to the head and think that he's trapped in one of his own movies. He encourages the 30 million evangelical Christians who didn't vote to get off their asses and do something about it this time, otherwise the country will 'go the way of socialism…..or something MUCH WORSE!'  He then quotes Edmund Burke. Smart. He then quotes Ronald Regan. Not so smart. Anyway you can check out this ridiculous promo below – it's kind of like a wrestling promo or something:
Now I'm all for getting people to vote – I think participatory democracy is important and a cornerstone of modern society – but this is just stupid. Really stupid. If you look at some of the reasons that Chuck Norris is critical of Obama's policies too you'll realise how much of a fucking douchetard he is as well. I mean of course almost all Republicans are douchetards but some of the stuff Chuck has been saying about Barack Obama is really, really stupid:
1. He stated that if Obamacare was available 2000 years ago then Jesus would have never been born because Mary would have got an abortion. There is so much wrong with theorising about that I don't even know where to start.
2. He claims that Obama is trying to make the boy scouts a 'pro gay' movement. Er what? Firstly why would that be bad (isn't scouts all about sharing and equality? Is the boy scouts particualrly anti-gay at the moment? Surely they're all a bunch of nerds that go camping in the woods all the time, and 50% of the troops are probably run by paedophiles anyway.
3. He has also claimed that Obama is trying to ensure that Islamic moral codes are adopted in United States law. Again, this might not necessarily be a bad thing but is a pretty ridiculous accusation considering Obama isn't even a Muslim!?
I think Chuck Norris is also remembering that Barack Obama is the man who nabbed Osama Bin Laden (allegedly, check out these Osama bin Laden conspiracy theories), and so maybe the reason he's so pissed at him is because he's  jealous of that and it wasn't Chuck Norris who managed to take him down. Or even George W. Bush. In conclusion though it doesn't really matter what his reasons for hating Obama are, they are all idiotic and Chuck Norris is officially one of the biggest idiots ever. Fuck him. Vote Obama.