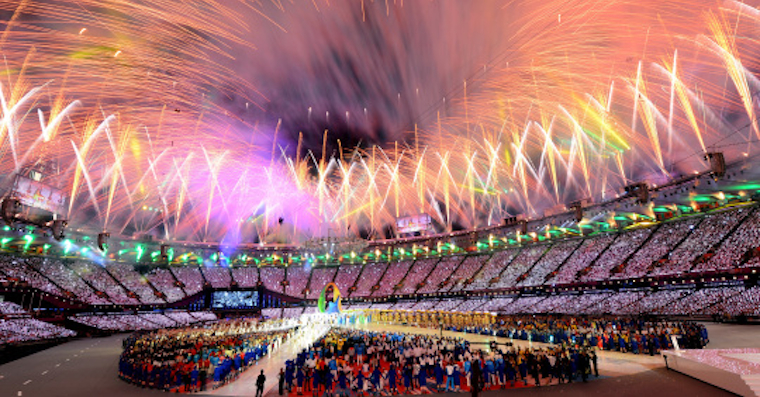 So that's it, it's all over. Like an annoying relative it came, maybe overstayed its welcome a bit, and then left. As the flame was extinguished the country looked back on 2 weeks of perving on volleyball players and laughing at crazy Mexican divers with a sense of pride. All that was left to do was a good closing ceremony full of excitement and the best talent Britain has to offer. The closing ceremony sent twitter into rapture – if you missed it check out a Sick Chirpse commentary on the event on the Sick Chirpse twitter feed – with a lot of criticism being flung at the acts taking part. Here's a rundown of the good and the bad:
Highs
The timing of Eric Idle rising from a pit to sing 'always look on the bright side of life' was perfect. It came straight after Taio Cruz, Jessie J and Tinie Tempah had killed a Bee Gee's song, which I'm sure made some of the band members pretty glad they weren't still 'stayin' alive'.  It was a particular low, and the timing of Idle's performance couldn't have been better. It was performed perfectly and, praise the Lord, didn't contain one of them shite black and white montages of athletes crying. Ironic really, that the person that stole the show celebrating British music, was not a musician.
Another non-musician that stole the show was Boris Johnson. You can always rely on Boris to add some excitement to any party, and seeing him dancing like a drunken uncle at a disco to the Spice Girls was unbelievably entertaining tele. Within seconds the internet was ripe with video loops of him dancing what is now known as the Boris bop, and who knows, if anyone can make Dad dancing cool again, it's Boris.
Lows
There were some real lows during the ceremony. There were some strange covers that probably shouldn't have happened, Ed Sheeran performing 'wish you were here' being an example. The worst of all though had to be the Kaiser Chiefs. As the intro to Pinball Wizard came on it seemed the ceremony was about to get better, but then, Ricky Wilson and the Kaiser Chiefs came out on top of cars and murdered it. Some things just shouldn't happen, that was one of them.
Another thing that shouldn't have happened was Taio Cruz being there. I'm not sure who hired him, or why, but they should be found and chased out of the ceremony committee immediately. Whoever decided to have Jessie J take the role of Freddie Mercury and perform with Queen should also face the same wrath. Getting Beady Eye to 'cover' Wonderwall was gross too, especially as Liam Gallagher clearly can't sing anymore and looks like an even more washed up version of Paul Weller, which I guess was probably his life ambition so at least one person was probably happy with his performance. Although Matt Bellamy, nailed his performance his stupid rock star posturing ensured that he continued to be an even more exaggerated caricature of himself as his faux operatic brand of rock music confused everyone all over the world. He seemed to be having a good time though.
My final low point was the entering of the athletes, seeing all the athletes showing their medals off to the camera like it hadn't been shoved in our faces enough was annoying, but then for them to take ages to enter to a loop of songs we had just heard, including One Direction, was borderline torture. Why the hell didn't they just play some different songs? Or just have Elbow do an extended set or get someone else like Coldplay in for it? Seemed stupid.
So it's over people, we can go back to normality now, and go back to not giving a fuck about discus and high jump and the dressage. That is until four years' time, when it all starts again although I doubt it's ever gong to be as exciting as it was this year.