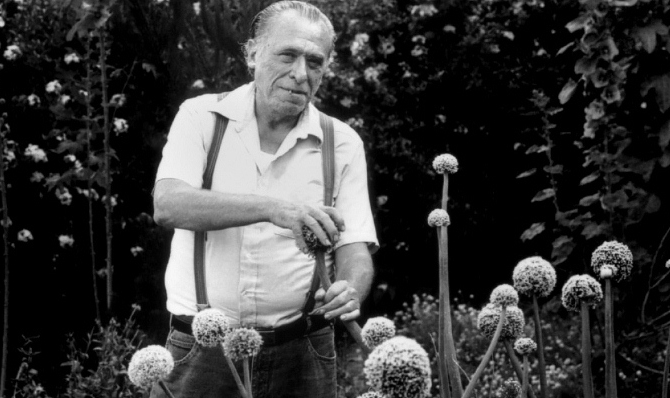 I was 18 the first time I read Bukowski. I was also 18 when I lost my virginity but that's something different, for another time. With Bukowski, I was in uni, being subjected to loads of boring crap like Jane Austen and Virginia Woolf and Ann Radcliffe and if you're a regular reader of Sick Chirpse then the chances are that you hate stuff like that, too. Reading the stuff is like walking through treacle – yeah, the pages of my books were sticky, most of them were second hand, so what? – and they can really end your dedication to the written word. Read them if you fancy being prescribed Prozac.
One night, after reading about 3 pages in 7 hours, I got on the blower to one of my boyz, weeping with anger at how these books became so famous, shaking with irritation and sweating with boredom, and cut loose on how I hated these books and how I didn't understand why my lecturer could despise me so much to give me such a shit reading list and how these books had ruined my love-affair with beautiful fiction everywhere. But then my mate on the other side of the phone said something like: 'Look, it's not that bad. Just have a break from the stuff you're reading now and check out a guy called Charles Bukowski. You'll really like him.' And the line went dead. Sorta like a cool conversation you see in the movies when two characters are having a conversation over the phone and one of them ends the call, leaving the other guy stunned and lifeless and less cool than the guy he was talking to on the phone. Yeah, it was sorta like that but it wasn't like that in any way at all, if you get me?
So, yeah, my friend told me about Bukowski over a phone-call so I went online and looked him up. One of the first testimonials I read was this: 'Takes you by the shoulders and shakes you until your teeth rattle.' And after reading your way through the shit I was reading back then, it only took that one sentence to buy a book by a writer who I was oblivious to. The book was called Post Office and it arrived a few days later. From the first sentence of: 'It began as a mistake.', I was hooked. The short, sharp sentences, the crass humour, the histrionic sexualisation of women, the swaggering style, the references to alcohol abuse and violence and hate for other people and the world. I read the book in a day. Compared to the boring stuff I'd been told I had to read, this was beautiful. I went ahead and ordered his whole collection. Poetry included.
☛ Try This: The Joy Of Books
If this is the first time you've heard of Charles Bukowski then the best thing you can do is type him into Google. Then watch this film and make up your own mind about the guy. This is one of my all-time favourite quotes from Buk, you can find it in his novel, Factotum:
"If you're going to try, go all the way. Otherwise, don't even start. This could mean losing girlfriends, wives, relatives and maybe even your mind. It could mean not eating for three or four days. It could mean freezing on a park bench. It could mean jail. It could mean derision. It could mean mockery–isolation. Isolation is the gift. All the others are a test of your endurance, of how much you really want to do it. And, you'll do it, despite rejection and the worst odds. And it will be better than anything else you can imagine. If you're going to try, go all the way. There is no other feeling like that. You will be alone with the gods, and the nights will flame with fire. You will ride life straight to perfect laughter. It's the only good fight there is."
If that quote isn't enough to push you out of the grind, I dunno what is. As much as the guy was an incredible writer, there's one thing though that really irritates me. And that's the imprint he's left behind on literature and readers. Not the words, but the attitude he's left behind.
Writers wanna be him and loads reckon they actually are the reincarnation of Buk. A lot of em call themselves 'the next Bukowski' or 'this generation's Bukowski' or 'UK's answer to Bukowski' or something like 'my girlfriend who has no self-esteem and tries to impress me at every opportunity so I won't punch her again reckons I'm the next Bukowski' or 'the really crappy tagline on the book I self-published which has sold two copies says I'm the next Bukowski, so I am', but all of these conceited, imbecilic remarks create an elevated sense of self-worth that plagues too many people who want to write but simply can't write for shit although they think they can because they're directly copying off Buk's style. The thing is, Bukowski actually lived what he wrote. He did it all. He drank, he fucked, he went on benders, he got in fights, he'd bully and pour his hate for the world into his women – through slurred, binged-up sentences and spiteful kicks and slaps – and he'd use his real-life experiences as influences on his writing.
Most of these self-proclaimed 'Bukowski's' also do these things. They'll drink and they'll shag and they'll do the rest of it but they won't do it because it's in their genes. And they won't do it to the level Bukowski did. They'll do it because Bukowski used these aspects of his life as influences and memories for which he'd use as writing material. The words were him. Every adjective, every noun, every phrase, every paragraph was how he saw his life. And these 'fake-Bukowski's' also think because they try to live a lifestyle like he did that they'll write like him. And they won't. They want to be him and they want to have a lasting legacy like him. But they won't. They can't. They weren't destined to.
Nobody becomes a good writer for copying off someone else' style. Use them as influences, yeah, but don't copy off them. How old are you? 10? Is this a spelling test in primary school? No. It's life. And if you're a writer, excuse how pretentiousness and ugly this may sound, but writing is your life. Your own life. Not someone else's. You should want to write about your experiences in your own way without dipping into the nearest book to pinch a phrase, because that's why you're a shit writer. Make your own phrases up. Doesn't matter how bad you think they may sound. At least they're your own. And grow up. Stop pretending to be someone you're not and exit the Bukowski room and take that clown wig off. It's too crowded. And life isn't a fancy dress party. Unless you're Paloma Faith.
☛ How About This: Best And Cheapest Fancy Dress Costumes In The Whole Universe
So all of these Bukowski wannabes fling their pretentious crap about like piss-filled-bottles at festivals.  You wanna stamp on their toes, right? You want them to be subjected to Gordon Ramsay's breath 24/7. All of these fake Bukowski's should join the mountain of big, sweaty, dirty bullshit that's been piled upon by too much bullshit over the years and has made Bukowski seem almost like an imaginary literary creature that floats on the sentence of every notebook, laptop, phone, book like some defining judge on how anything should be written, but that's not the case.
Buk was a man who had a way with the written word and influenced so many and became a really famous writer but if he could see you all today, with your shiny coffee mug in the 'hip' coffee shop in town, surrounded by people just as weak as yourself and preening your confidence with your purrs of adoration of Buk and holding the only book of his you've read, he'd laugh at you. He'd hate you. He'd think you're an idiot. He was his own man, something which is obvious in his writing and wasn't afraid to let his soul fall loose on the page. Some of his poetry is real, emotional stuff. This is an excerpt from his poem, Raw With Love:
i will remember the kisses
our lips raw with love
and how you gave me
everything you had
and how I
offered you what was left of
me,
and I will remember your small room
the feel of you
You can find the rest of the poem here. Read it if you haven't. Just don't copy it.
He didn't write to be 'cool' or whatever, like a lot of ignorant people do nowadays. He wrote because he had to – it was in every sinew – and, as he said: 'Find what you love, and let it kill you.'
So, go on, find it. You're not the next Bukowski. Buk realised at a very early age that nobody is who they think they are.
I'm just trying to save face, I suppose. Get out of that coffee shop, buy some cheap teabags and a cheap jar of coffee, get a job – get two, even – and do something useful with your education, pick up new reading material (Craig Clevenger is pretty useful with words), think of your own story, turn on your laptop or steal some paper and write. You'll probably feel a lot better about yourself, you pretentious fuck.
☛ A Vitriolic Rant About Nothing