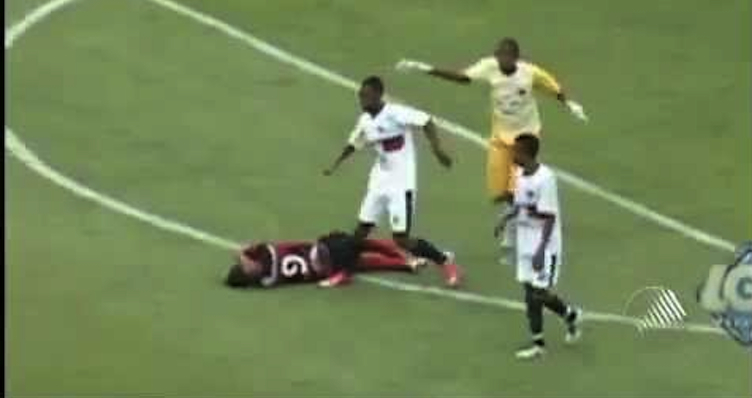 World Cup 2014 looks like it's going to be a blast as a video has emerged of just how crazy Brazilian people can be, even at the under 13 level. This footage comes from a game between Bahia and Vittoria over the weekend. Bahia were winning 2-1 near the end of the match when a Vittoria striker started goading the opposition goalkeeper and defender. I'm not really sure why the goalkeeper and defender went so crazy about it – I mean they're winning the game right, surely that's the best way to show this dickhead striker who the boss is? Oh yeah, I forgot they're under 13 and probably haven't learned how to control their tempers yet.
☛ More: Sick Chirpse Birthday Party!
So yeah, the Bahia backline fucking go for it. I don't like to use the term all hell breaks loose but this is seriously crazy, it's not even like they're fighting it's just a bunch of little kids running in and flying kicking each other in the face and kicking the shit out of each other. They're even kicking people who are on the floor in the chest, like to be honest it's some completely crazy footage – I don't think I've ever really seen anything like it in a football match except maybe from Joey Barton a couple of times when the red mist descends on him. It's crazy.
Apparently there are reports in the Brazilian media saying that riot police had to be called in to stop the ensuing chaos and although this video unfortunately cuts off before that happens, it isn't too far out of the realms of possibility because it is serious carnage down there with almost everyone on the pitch getting involved. Check out the footage below:
☛  More: Grenade Explodes On Pitch In Asian Champions League Match 
☛  More: The Premier League's Biggest Dickheads of 2011/12 
☛  More: Horror Tackle From Paolo Guerrero