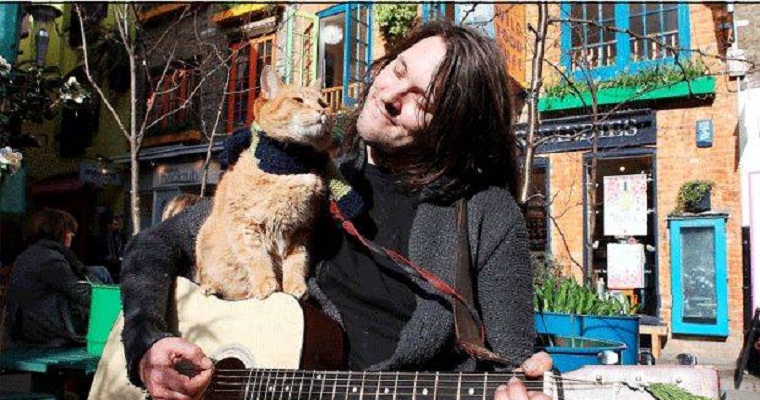 Those who frequent Covent Garden or Angel will know James and Bob well. Bob, who is James's best mate, wears customised knitted scarves and is never too busy to give James a high five. Sounds like everybody's best mate, right? Wrong. Bob's a cat. When James found him he was in urgent need of medical attention, so James sourced the necessary antibiotics and nursed Bob back to health. He even tried to find Bob's owner, convinced someone would be missing him and anxious for his safe return.
No one came forward. Bob got better. James assumed he would move on, but Bob stayed put. He had chosen a friend for life, and he hasn't left James's side since.
James Bowen, a busker, Big Issue vender and more recently author, won his battle with heroin which, he believes, is thanks massively to Bob. Now clean of drugs, James's book  A Street Cat Named Bob,  which was published by Hodder and Stoughton in March, is widely available to buy. Their achievements and the uniqueness of their bond even earned James and Bob an appearance on live daytime TV.
When not collaborating with authors and rubbing shoulders with celebrities, James can still be found belting out Nirvana tunes in Covent Garden, a patient Bob at his feet. As his namesake suggests, mellow Bob either chills out on his cushion, or perches on top of James's guitar, amusing and appealing to an endeared passing public.
Their inspiring story is proof that man can find a best friend in the most unlikely of places, and overcome some of life's toughest obstacles. Aww.