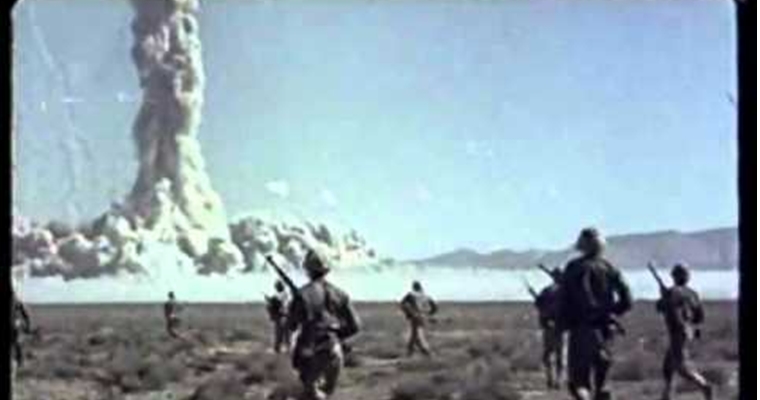 America used to enjoy testing big ass fucked up atomic bombs on it's own guys, it was worse that they tested them on other people of the world of course, but pretty fucked up that they did testing on their own too. Maybe they still do? Maybe they've just got a lot more efficient at hiding things. But back before the internet was a twinkle in a ZX Spectrum's tape deck, it was a lot easier to cover up. And health and safety wasn't born yet either.
Military top brass were concerned that atomic bombs were feared by their troops, and they simply would not stand for that. The upper echelons thought that the troops had a "mystical" fear of radiation. To me that seems fairly legit as the bombs are literally monstrous, but at that stage they didn't have quite the same insight in to the longer term effects I suppose. The human tests they did were seen as a method to prove the safety of the bomb rather than it's negative impact.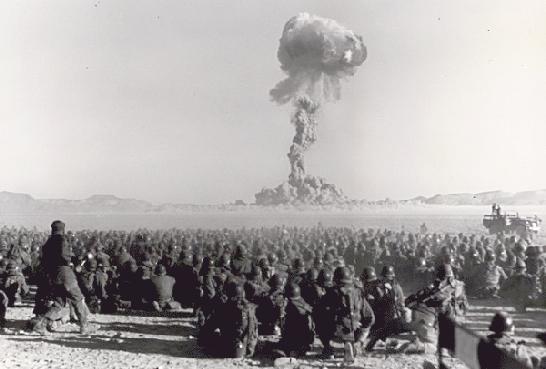 The video I've put at the bottom of this post is one such test, soldiers were placed scorchingly close to a big old bugger of a bomb. And then ran towards it!? The point was, in part, to make the men more at ease with the death machine's output, but also to see what kind of effects it had on them at the time, psychologically and physically.
They conducted a series of tests called HumRRO that involved "indoctrinating" soldiers with positive information about atomic weapons before they watched them go BOOM. They did questionnaires to gauge their perceived fear of the bomb before and after witnessing the hell fire explosion. And guess what, most people were just as scared after they'd witnessed the cataclysm as before. Not massively surprising after seeing the sky being ripped a new sphincter. In later tests participants were moved closer and closer to ground zero "until thresholds of intolerability are ascertained". How lovely of them.
This mad picture is the Russians doing a similar thing in 1961. They're watching the Tsar Bomba, the most powerful bomb EVER dropped. And it was on their home soil!? It would give you third degree burns 100km from the detonation area. To put that in to perspective, if the bomb had gone off in Manchester, the people in Leicester would have been pork scratchings. Jeeeeeeeeez…. what plums.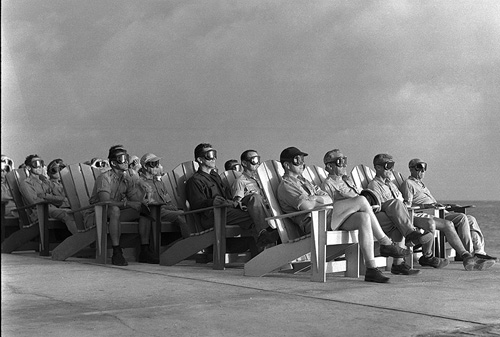 And this is CG visuals of what they were watching, what a show…. if you like leukemia that is….
In Nevada in 1952, 12 poor buggers were made to witness a detonation from a darkened trailer about sixteen kilometers from the point of detonation. Each of the human "observers" placed his face in a hood; A fraction of a second before the explosion, a shutter opened, exposing the left eye to the flash. Two subjects incurred retinal burns, at which point the project for that test series was terminated. What did they expect to happen, really?
Anyhow, I'm not sure exactly when this footage was from but it's pretty eerie and pretty dark. And the darkest thing is that although the US aren't doing this to their troops now, you can't help but wonder what they are doing. Probably feeding them to aliens or getting them to lick Nessy's underbelly. I don't know.