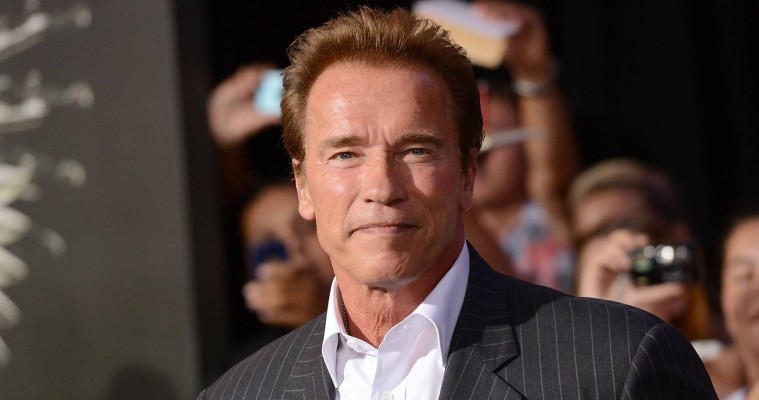 I miss Arnie. I mean, I was just about old enough to know about him when he was still making new films (the Expendables does not count), but he was still a massive name for the majority of my childhood and tween years and his movies were on TV all the time. But ever since he became a politician around 2003-time, he got boring.
He may have been a really engaging and inspiring politician (he may have been shit, for all I know), but if you're not from California, who cares. My Sharston MP is called Paul Goggins but you didn't know that, did you? To be fair, I just looked it up, and you can't compare California to Sharston anyway, but my point is I don't care about politics unless it involves an entire country (and a powerful one at that) and I doubt most of you do either.
So yes it was really cool that this ex-world's strongest man, ex-merciless-murderous-robot-sent-from-the-future-to-destroy-mankind suddenly ran for Governor of California and actually won. By the way, did you ever hear the story of how he decided to run for Governor? I'll save you the Wikitrip:
Schwarzenegger announced his candidacy for Governor of California on the August 6, 2003 episode of The Tonight Show with Jay Leno. According to Schwarzenegger, he didn't decide to run until the day of the show:
"The recall happens and people are asking me, 'What are you going to do?' I thought about it but decided I wasn't going to do it. I told Maria I wasn't running. I told everyone I wasn't running. I wasn't running. I just thought [en route to the Tonight Show], this will freak everyone out. It'll be so funny. I'll announce that I am running. I told Leno I was running. And two months later I was governor. What the fuck is that? All these people are asking me, 'What's your plan? Who's on your staff?' I didn't have a plan. I didn't have a staff. I wasn't running until I went on Jay Leno."
If you didn't already love Arnie then surely you do now.
But then everyone lost interest when we realised that, in fact, he wasn't going to arrive at government conferences with jungle camo face-paint on, or challenge George Bush to an arm-wrestle, he was actually going to take it seriously and combine his decisive and extraordinarily driven character with his honest and coherent speaking skills to fight for his and his fellow statesmen's beliefs. Yawn.
So he spent 8 years being boring – even the Terminator needs a break sometimes. Here are some highlights of his reign:
He got into some trouble over copping a feel of some bitches a few times during his acting career. At that point he was an international superstar and ripped to fuck, so I think we can let him off for thinking he didn't need to ask before slipping a hand up here and there. He admitted he'd "behaved badly sometimes" and apologised, but also said that a lot of stuff written about him wasn't true. But seriously, how many girls can tell their friends, "Arnold Schwarzenegger squeezed my boob"? That's an elite group, right there.
During his first election campaign, a 1977 interview with adult magazine Oui surfaced, in which Arnold talked about going to sex orgies and taking drugs like marijuana – in the 1975 documentary film Pumping Iron, Schwarzenegger is shown smoking a joint after winning Mr. Olympia (while wearing a T-shirt (size-HENCH) that says "Arnold Is Numero Uno"). Never has anyone in the history of the world been better suited to utter the words "I do what I want". In an interview with GQ in 2007, he said, "[Marijuana] is not a drug. It's a leaf. My drug was pumping iron, trust me."
In Hawaii, in 2004, he saved a drowning man's life.
In 2006, he crashed his Harley at low speed. No one was badly hurt. But, just to reiterate, the Terminator crashed his motorcycle. I sincerely hope someone, at some point, said, "He'll live." Not the most memorable quote, I know, but it definitely fits the best. Alright, is this one better?: Arnie steps away from the scene, into the middle of the road in front of the next biker, stops him and says, "I need your clothes, your boots and your motorcycle." Does that one work? He wouldn't need his clothes and boots so I'm kinda clutching at straws. Ok, I've got one: immediately after the crash, he gets up, walks over to the driver that hit him and goes, "Fuck you, asshole." Boom.
He did some political things.
So in 2011 he finished being boring and now he's fully back.
He released his book, Total Recall, at the start of this month. I haven't read it yet but apparently he doesn't hold anything back and reveals every truth and secret about his life – which shouldn't really need any sprucing up anyway considering how extraordinary it's been. I'm seriously considering reading it, which is a quite a feat for someone who doesn't read. This is the best book trailer I've ever seen:
Because of this book, he's back in the media promoting it. He went on Graham Norton about a year ago and he's been gradually uploading to his YouTube channel more and more. Half the stuff he puts up is still boring political things and award ceremonies (probably put up by his PR guy or something), but half of it is little clips of him saying funny stuff to the camera. Check:
Get subbing mofos. I checked his Twitter as well but he's not that funny on it.
But I saved the best 'til last. If you were reading this thinking, "Ok, so he wrote a book and made some little YouTube clips  - so what? Sounds like retirement to me", then I have two words to say to you. Watch this.
More: Arnold Schwarzenegger Murder Conspiracy 
More: The Governator – Animated Series About Arnold Schwarzenegger Being The Governor Of California/A Crime Fighter 
More: A.Zombie For U.S. President 
It also came out in the news today that he's signed up for a new Conan The Barbarian movie called 'The Legend of Conan' which should be a blast. I mean, Arnie's back! He's finally back! Woop woop!