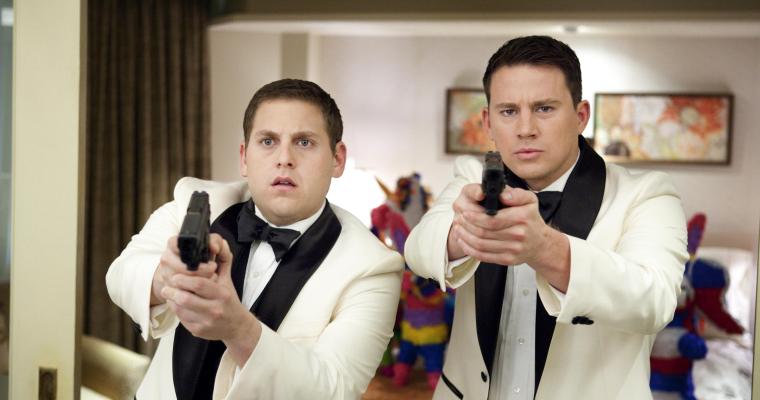 Having not ever watched the original I had very little idea what 21 Jump Street was going to be about. In all honesty I wasn't even all that bothered about seeing the film and it took my friend paying for my ticket to persuade me to go and see it. Surprisingly though,  this has to be the best film I've seen in the last couple of years and the fact I didn't pay makes it even sweeter.
The plot is essentially the same as the original TV series. After a student overdoses on a new synthetic drug, two cops named Schmidt and Jenko, go undercover at a high school where they attempt to infiltrate a drugs ring in order to find out the supplier of this new drug.
This in itself is a pretty simple concept that can very easily fall flat. When you are remaking an 80's TV show however, failure is that much easier to achieve. Just look at Starsky and Hutch! You needn't worry here though, directors, Phil Lord and Chris Miller get this one spot on.
Jonah Hill is on top form but let's be honest when isn't he? He's one of the finest comedy actors around and he further cements his reputation in his latest showing. I love comedy films but while most of them make me laugh there are very few that deliver a scene that has me laughing to the point of throwing up. This film contained one of those and I would pay the entrance fee just for the chance to see Hill running a relay race while under the influence of drugs again. For those interested I can only recall three other films that triggered those kinds of laughs in me;: Get Him To The Greek – Jeffrey scene; Pineapple Express – fight scene; Borat – practically every scene)
The surprise package in the movie though was definitely Channing Tatum. One of the reasons I was sceptical about seeing the film was because Tatum was cast. Not that I dislike him but his list of credits consists of highly questionable 'action/romance' films such as Fighting and G.I. Joe: Rise of the Cobra. I wasn't confident he could pull off being a comedy actor but how wrong I was, as he absolutely smashes it with fantastic timing and reaction acting. In all honesty I was hoping he wouldn't pull it off because now he has the looks, the money the sense of humour and I have NOTHING!!!
His on-screen chemistry with Hill is evident throughout the film and it is plainly clear that they had a great time working with each other. Tatum strikes me as the type of actor who watches and learns from his co-stars, in whatever film, to improve his own performances. In fact, you can see a lot of Jonah Hill in Tatum's performance. If I was Tatum's agent I would be encouraging him to focus his career on comedy films from now on.
The next star turn was definitely that of Rob Riggle. When will this man get the leading role he so clearly deserves? One of the most underrated comedy actors at present, Riggle was also instrumental in my almost up-chuck being the other main player in the scene with Jonah Hill. He plays the athletics coach who still lives by the code of the playground i.e. bullying the nerdy looking kids and trying to get chummy with the cool kids.
One day soon a director in Hollywood is going to realise that Rob Riggle is a treasure and is going to give him a role that will thrust him into the spotlight. For me, he deserves to be mentioned in the same breath as the likes of Will Ferrell and Zack Galifianakis.
Ice Cube gives a solid showing as Schmidt and Jenko's captain on Jumpstreet. Mr Cube's remit was clearly to act like the angriest guy in the world and the scenes he is involved in contain some of the best insults in film. This is not for their creativity but for their bluntness and honesty.
21 Jump Street is also a film choc-full of cameos, from the likes of Nick Offerman (Parks and Rec's very own Ron Swanson) to Ellie Kemper (Erin from The Office) and even a surprise appearance at the end from a familiar face. A film and TV lover can take great pleasure from this film just identifying all the cameos, although there is a lot more to enjoy which is why I recommend the movie so heartily.
My rating 9/10: This film is a must-see. Whether it's the performances of Hill, Tatum and Riggle or the little cameos dotted throughout, each one of them adds their own little quirks that makes 21 Jump Street the success that it is.