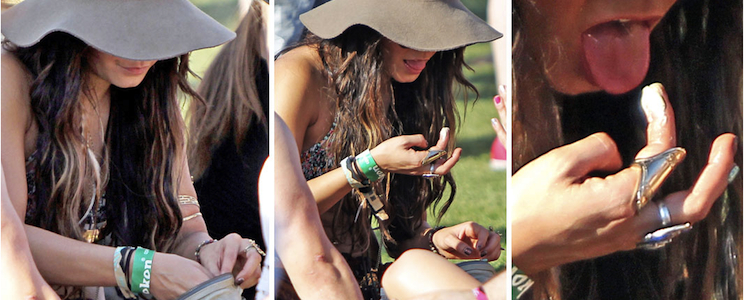 Way back last November when Sick Chirpse first started, one of the posts that got the biggest reaction was when we posted the video of Miley Cyrus smoking a bong. We've featured a few stories about dumb stuff celebrities have done – like Lindsey Lohan getting high off electronic glasses, or a bunch of celebrities who think the world will end in 2012 and what they're planning to do about it -  but we  haven't done anything like that in a while so to satisfy all your interests in dumb celebrities here's a video made by the guys over at Liquid Generation that features 10 celebrities caught on camera doing drugs.
The drugs vary, the status of the celebities vary, the amount of footage varies but it's pretty funny seeing your favourite celebirty snorting a line of coke (Lindsey Lohan, Kate Moss, Amy Winehouse) or smoking a doob/bong (Michael Phelps, Arnold Schwarzenegger), although the quality of the video is kinda crappy. Still, I guess that's to be expected when you're busting celebrities taking drugs in secret. Just enjoy it for what it is I guess – a bunch of celebrities taking drugs. Celebirites huh? Who would have thought they were real people too?
The soundtrack to the ten celebrites caught on tape with drugs video is pretty cool too – 'We are all on drugs' by Weezer. Dope huh?
Follow timw_brap on twitter @timw_brap
Follow Sick Chirpse on twitter @sickchirpse